Business analytics supports data driven decision making
Learn how to use business analytics to implement meaningful and relevant data to make accurate decisions that can produce better results.
Business analytics are necessary for business owners to consider all options before making a critical choice. Organizations struggle to make wise judgments because they must rely on analytical models that are riddled with errors. Our clients have been able to make wiser decisions with greater outcome predictability because of business analytics. In Stridefuture, we examined the issue of data spinning out within the business that they can use to provide a more accurate estimate.
Our business analytics methodology focuses on solving a particular business problem using a subset of data analytics that converts and analyses raw data into metrics and insights.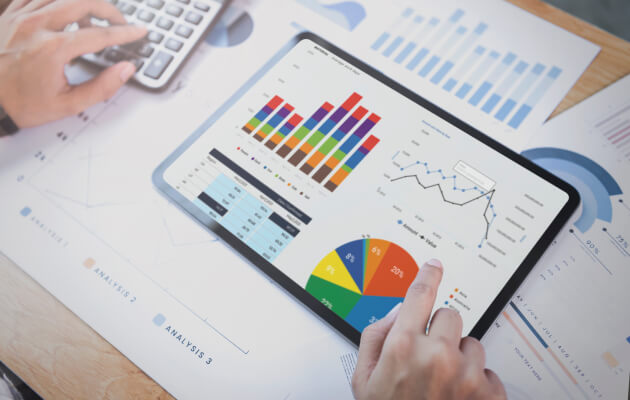 Challenges encountered by Client
Ineffective data handling was our client's main problem. Enterprises struggle to manage data effectively since it is fragmented among private clouds, on-premises data centers, public clouds, and hybrid clouds, which has an effect on the company's income. They were unable to access the information they needed to make informed decisions with improved outcomes. Lack of a clear notion prevented you from discussing the next course of action with your stakeholders and staff.
An application was created to enhance forecasting with precise predictions of product and customer demand in order to better understand business performance.
By giving a clear image of how various business sectors are working and the efficacy of the data stored, the program was able to gauge the success of new tactics.
The portal developed by us enabled our client to gain clear insights through data visualization which was represented by visual graphics such as pie charts and graphs.
The organization was able to increase operational effectiveness without difficulty. They were able to identify the source of production delays or bottlenecks by analyzing and collecting data about the supply chain. Consequently, it enabled them to foresee potential issues.
The client was able to make strategic business decisions and reduce losses thanks to our integrated data analytics. With all the data on a single dashboard, our predictive analytics model's analytical perspective transforms.
The application of data analytics multiplied the value of corporate data, creating a plethora of chances for growth and expansion. It assisted business owners in making wiser decisions about their workforce, finances, and overall business plans.