Best Software Blogging Tools to Save Your Time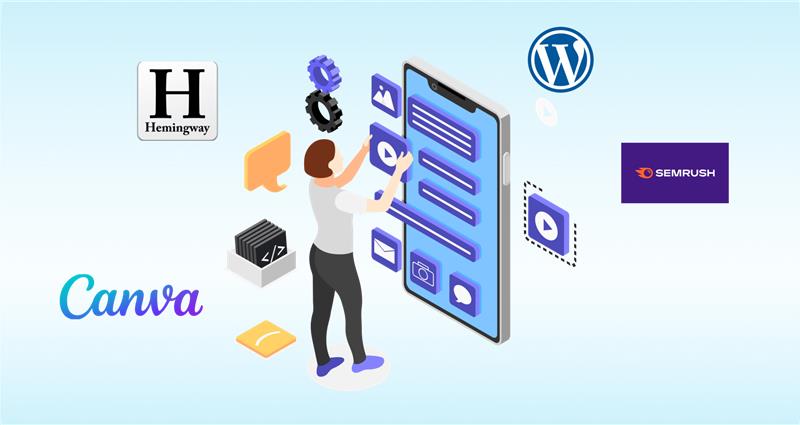 Are you a blogger? Have you ever felt that you need something more as a blogger?  
Imagine if you could do more in less time how amazing it would be! 
Do not worry because we will explore some of the top blogging tools in this article to help you improve your job and become more productive. We'll assist you in understanding how to organize your strategy, handle your workload, produce more leads, and build readers' trust. There are tools available to help you make the most of your blogging efforts, from preparation to implementation.  
Ready to get started? Let's begin! 
Blog Hosting; You must first choose a platform on which to host your blog. This platform is significant since it offers the SEO tools, security, and page speed you need to grow your blog successfully. 
WordPress- WordPress has established itself as a very adaptable blogging platform. A drag-and-drop text and image editor, together with a variety of plug-ins, have made creating blogs simpler. A personal blog's visitors will enjoy the more successful execution that results from a greater understanding of their usefulness. The majority of experts choose WordPress because it makes it easy to develop customized blogs on both the front and back ends. Additionally, the process of developing a website may be easily maintained and managed while saving time and money. 
Blog Planning; Knowing the value of a blog planning tool is crucial since it will enable you to identify your target audience, locate pertinent subjects that interest them, and organize your blog approach to prevent writer's block. 
SEMrush- With the aid of SEMrush, you may successfully plan your website and take it to new heights. It is a premium tool for tracking keyword rank, conducting keyword research, analyzing traffic, and auditing websites. By putting an emphasis on search engine marketing efforts to outrank your blog rating from your competition, this tool can be utilized for blogging strategy planning. For bloggers and marketers with intermediate to advanced keyword research skills, this tool is advised. 
Blog Writing; It's time to start writing your blog now that you have a plan in place. Prior to writing down your thoughts, it is time to optimize the title using the proper keywords. Let's look at the tool that will assist in producing content that is error-free in grammar and spelling. 
Hemmingway App-The most crucial aspect of writing is coming up with a compelling headline. If the headlines are compelling and provide the information that the audience is seeking, they are more likely to read lengthy paragraphs. The only goal of blog writing is to keep readers interested from beginning to conclusion. The Hemmingway App makes it simple to analyze your readability rating. Highlighting dense, complicated sentences that fit your reader's vocabulary is helpful. 
Blog Image; A blog is improved by images since users are more likely to interact when there are pictures. As a result, it is crucial for bloggers to pay attention to their blog's photos and plan to create them in a way that will increase the content's readability and retention. 
Canva- It is an easy-to-use tool for making pictures and templates. This is the best tool you can have if you're trying to generate images with texts and import images from your library. Free templates are available on Canva as well. For someone who wishes to make beautiful photos for the first time, the navigation is simple. It helps to bring forth powerful design and collaboration features when there are strong collaborative elements. 
Blog Promotion; Once the blog is ready for usage, it is crucial to market it to the intended audience in order to increase traffic. The blog needs to be promoted for this reason in order to reach the correct audience. The importance of using blogs as a promotion tool cannot be understated. 
BuzzSumo- This tool has a function that will guide you on the most effective ways to market your blog. Monitoring blog performance and determining the best times and platforms to attract traffic is helpful. The tool aids in your understanding of the subjects and types of material that are most effective across various social media channels. 
We hope this blog has been helpful to know and understand the blog creation process and what tools can be used for the best results. To improve your ROI and leave a long-lasting impression on readers, start expanding your blog right away by optimizing it and spreading the word about it on social media.